Massive Natural Stone Grotto Waterfall and Spa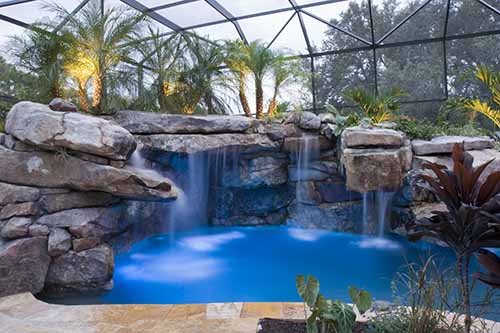 Natural Stone Grotto Waterfall Swimming Pool with Stone Spa by Lucas Lagoons
This award winning outdoor design includes a lagoon pool with natural stone waterfalls, a stone spa with a stream, stone bridge, travertine decking, tropical landscaping, outdoor lighting, and an outdoor kitchen. The lagoon swimming pool features a large waterfall with multiple water features that surround you while swimming around the waterfalls. The stone spa was elevated from the pool with a natural stone stream flowing from the stone spa into the lagoon swimming pool. A large stone boulder was set over the stream to lead you to the large flagstone steps that created a path through the landscaping alongside the lagoon pool and behind the water feature.
photo: www.lucaslagoons.com