Floating Pool Lights
July 24, 2014
Floating pool lights have become a great option when looking at ways to illuminate your pool. They are available in many different colors and styles to ensure that you can find some to suit your taste and budget. This style of lights is not only a fantastic way to keep the area lit, but also create the ultimate party atmosphere.
You will need to decide if you want the pool lights that illuminate the base of the pool, or in a direct line to the sky.
Many people forget to install pool lights when they have their swimming pool put in place, or they think they are too complicated and expensive. However, floating lights can solve this problem. They can be easily placed once the pool is in position and you need no technical skills at all. There are two main types of floating pool lights to choose from, which are rechargeable battery lights and solar energy lights.
Rechargeable floating pool lights
Rechargeable Floating lights are powered by batteries that will need to be disposed of correctly. The batteries will only power the floating pool lights for up to four hours, which may be a short time if you have many parties. When they go flat they will need to be recharged, which is simple to do, however, some people forget until it is dark.
Rechargeable lights are adequate for a swimming pool of 20ftx40ft, and will provide a perfect ambient light effect. They can also be removed and used in other areas of the garden and taken on camping trips. These styles of floating pool lights are cost effective, portable and easy to use in your swimming pool, spa, or Jacuzzi. When the batteries need charging they simply need to be fished out of the pool and charged until they are needed again.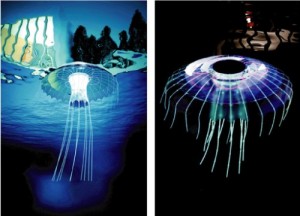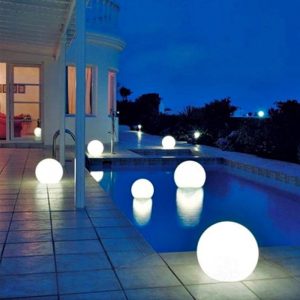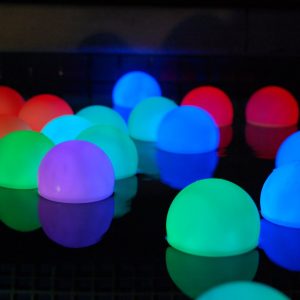 Solar floating pool lights
Solar lights in any form are the most cost-effective and energy-efficient option that you have. Having them in your swimming pool is an excellent idea as they charge all day from the sunlight and will light up the pool all night. The sun energy is captured by the solar panels on the lights, which charges the internal battery powering the lights. There are many different styles, shapes and colors of these floating pool lights available.
Whether you like exotic colored fish, or subtle orbs of light your pool and surrounding area will look fantastic. These solar lights can be moved very easily and enable you to use the lights in other areas. When the pool is not being used the solar lighting can help to enhance your barbeque or eating area. Although a single solar light is not very bright on its own, however, if you have several solar lights it will illuminate the whole area.
Floating lights are the perfect solution if you are not technically minded and do not want to use conventional hardwired electrical lighting near the pool. You can buy them, charge them and have them in the water within hours ensuring that everyone can see what they are doing. The lights will provide the element of safety that may be lacking around the pool and ensure that everyone has a great time.