Infinity Edge Swimming Pool, Kinnelon, NJ
September 3, 2014
Glazing blue galaxy underwater- pool lightening created at Kinnelon, NJ
Having a pool may be luxury for you, but having a pool installed with awesome and unique lightening makes you look luxurious. Illuminating your pool by great lightening effect makes a mesmerizing point of view for your location. Several lightening technique such as fiber optics, LED lightening are available which not only makes your swimming safer but also make it easier to navigate and swim across the pool when sun goes down.
Here we are showing off one of the beautiful pool that uses the awesome reflecting ideas; illuminated by Led and fiber optic lightening. It's an environment friendly and energy efficient approach to glitter your pool. Led lights comes in various color feature and programming functions that creates a disco effect for your pool party or a relaxing look for your romantic evening. The transparency of blue color is giving a 'wow' factor to the pool.
This beautiful roman shaped infinity edge swimming pool is located at Kinnelon, New Jersey, Bergen County. The project is completed by Cipriano landscape design & custom pool. They work with their higher level of design and craftsmanship to transform an uninspired swimming pool into custom and unique design. The LED and fiber optics lightening is installed in this pool for attractive display.

Architectural features:
The pool is elegantly carved in roman shape with infinity edge design that accents the view of the site. The goal of the design is to provide abundance seating, spacious spa, and beautiful sun shelf at the shallow end. Layout of swimming pool is in patio form that allows users to spread out comfortably for active or passive recreation.
Floor of the pools serves as background for any light effects. It highlights your selected pattern and color combination in much brighter way. The waterline and bottom of this pool is consisted of dual color iridescent glass tile arranged in Grecian key pattern. Adjacent spa is also architecture with matching glass tiles finishes. Branded in-floor cleaning system is embedded in the swimming pool and spa. The surrounding landscape is made up of Dolomite limestone set in multiple patterns.
The lightening task:
The pool is enlighten by interesting light design that allure the atmosphere and makes the night swimming more entertaining and appealing. The pattern attracts you automatically to spend few hours of your night life at pool regularly.
Pool lightening idea used:
This infinity edge swimming pool features colored fiber optics star lightening, colored fiber optics deck jet fountains and multi-colored LED lights to glow the entire pool, spa and surrounding landscape with sun shelf. Looking into the details of their installation:
Fiber optics floor star lightening: Colorful creativity is obtained from fiber optic lightening. This form of lightening is popular for safety and color options it offers. The installation crew of this fiber has to tip toe around 200 fibers optics on the pool floor to create dramatic star floor light effects on water surface. It is installed as another layer of swimming pool along with tiles and plaster. The installer found it difficult to install but as we know hard work always pay off; the end result proved to be breathtaking for viewer. The fibers are arranged to create a star light effects over the blue canvas. There are almost two hundred of end glow fibers are used to give a feel of floating in the galaxy.
Fiber optic deck jet lightening: The unique active coloring effect is illuminated by deck jet lightening installed at the four corners of this roman edge pool. These jets are used to create spectacular nighttime effect. The projecting magenta pink color by these fibers gives dazzling sharp light effect around the corners. The overall view is like your pool is getting blessed from all the directions.
Multi-color LED lights in spa: The large spa at one side of the pool is light up by three multi-color wall mounted LED lights. The color led lights has 50 options to set your mood any time. You can take a relaxing glow up bath by accompanying with these functional features light. These lights are also installed at the pool border to create an extra pattern along with fiber optics lightening.
The finishing touch to the pool is provided by lightening the surrounded landscapes. The urn located at the piers around is also focused by light to give an enchanting entry to the pool. The sun shelf is a perfect lightening house after the sunset you can sit here and look out the pleasing blue ocean in front of you, sparkling with little multi color stars and glaring with striking magenta deck light.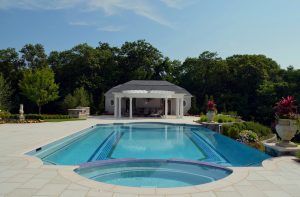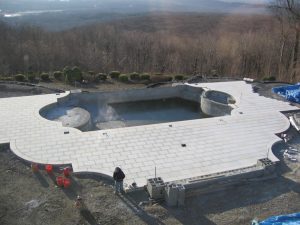 Ideas presented by this roman edge fiber-LED lighten pool:
You can use fiber optic light to create star light effect over the water surface.
Fiber jet can form sharp laser light effects that can use to give waterfall effect.
Multi-color LED is use to form different shade of light in pool and spa wall.
Fiber and LED is the safest option for the pool lightening that gives you secure relaxing experience in the dark blanket night at your pool.
Blue looks fascinating over the water, and the surrounding landscape lightening ads up glow and glamour to the pool.
This beautiful blue ocean is a private property at Kinnelon, but you can have one in your house resembling its features and enhancing ideas creatively that are used to design this roman shaped infinity edge swimming pool.