LED Pool Lights
July 24, 2014
With a vast array of pool lights on the market today, you may have a hard time choosing the proper lights for your pool. Incandescent lights, halogen, solar, fiber optic and LED lights are some of the most common and frequently used options.
While each type of pool light carries similar functions and purposes, each have their advantages and disadvantages. However, LED lamps may be a good option if you want to illuminate your underwater space while concurrently adding ambiance to your deck or patio space. In either event, LED lights are a better option if you find their features appealing.
LED pool lights' primary function is to emit diodes that enhance the amount of light in pool water. These lights are waterproof and can even be used above water as well as below. Because of this fact, many pool owners have since removed their old pool lights to replace them with LED. Moreover, those who are planning to or have recently installed an in-ground pool have also opted for LED pool lights. Reasons behind the switch include low maintenance, energy efficiency and brighter lighting underwater, resulting in vivid clarity when swimming and utilizing the above water space.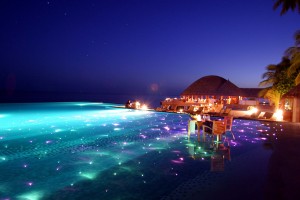 Unlike other underwater lighting systems, LED lights have color changing options. LED lights are available in almost every color in the color spectrum. Colored LED lights can also be set above ground to enhance ambiance. Colored LED lights are customizable with preset programs so that the colors can change to a noiseless rhythm. This is beneficial to those who utilize the pool and deck areas for parties, relaxation, or romance. Not only are LED lights comparable to traditional fiber optic pool lights, but they are also energy efficient to save money on energy costs.
LED pool lights are slightly higher than traditional pool lights in the initial system installation, however, the money that you save in the long run from lowered energy costs in addition to durability and longevity is well worth the price. Since LED only consume a fraction of the costs, energy savings are in upwards of 90% in comparison to incandescent or halogen pool lighting systems. Average startup costs range from $350 to $950. However, after initial startup costs, only the bulb replacement is necessary and ranges from $150 to $400. Maintenance is also miniscule. Unlike incandescent lighting that dumps up to 90% of its own energy, LED lighting consumes little to no heat which consequentially extends its lifespan to approximately 8 to 15 years. Therefore, instead of constantly replacing the bulbs, you may spend money on bulb replacement almost every decade over other systems.
Better design features of newer LED light includes the front diffusing lens, the "angle" a certain LED throws light to and if that light can be thrown 180 degrees from the pool light enclosure.
LED operates without glass, filaments or any tugging, making lights resistant against vibration and more capable of absorbing shocks. For smaller underwater spaces like spas and hot tubs, LED lighting is even easier and less expensive to build. Additionally, these smaller spaces are also less vulnerable to outside radicals including wind, dust, and vibration. You can see LED lighting example in video below: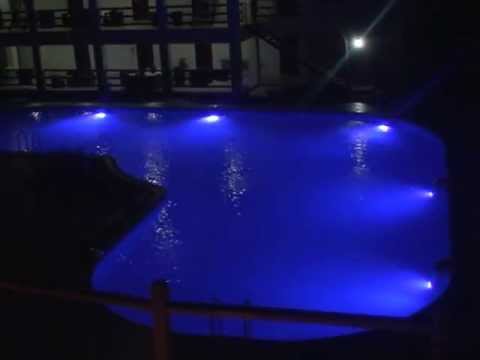 With more concern about the environment, many pool owners are also looking for greener components to incorporate into their pool systems. LED also proves to be another attractive option for pool owners who fall into this category. LED lights are extremely environmentally friendly and do not contain any components or after effects that harm the environment in any way.
Whether you have children, you have other people enjoying your pool, or if you are concerned with your own safety, safety is another issue to explore when opting out of traditional incandescent or halogen pool lighting. LED lights are equally safe when submerged in the water or outside of the water. With the help of a transformer, the electric shock value is almost equal that of a car charger with up to 12 volts of power, thus enhancing the LED safety feature.
Whether you are looking to install an underground pool, are exploring your options, or are looking to replace your current pool lighting system, rest assured that LED lighting is a pliable option to explore. With less energy output, bulb longevity, safety, value, and environmentally friendly features, LED pool lights are an option worth exploring.