Music Themed Violin Inground Pool, Bedford, NY
September 3, 2014
A luxury dive into light of music- an amazing swimming pool at New York
This amazing swimming pool was built with great care and professionalism by Cipriano Landscape Design & Custom Swimming Pools.
The unique carving and awesome lightening of this music themed contemporary swimming pool assure hypnotism to its viewer for a moment. The combination is rare when a great idea of landscape design is enlighten with elegant light appearance, and such combo comes into reality with this 1700 era's Stradivarius violin shaped swimming pool whose every feature is illuminated in detail by fiber optic and LED pool lighting.
This pool reflects the love for music and not only has it reflected but also makes listening to your favorite music possible with its underwater audio system. This awesome swimming pool is truly luxurious and modern in terms of technology, user can adjust the pool and landscape setting with his iphone, fiber optics and LED lighting technology is used which the most power efficient and safest glowing option for underwater and landscape pool lighting.
This dream glass tile pool is a private property at Bedford, New York, whose owner is an amateur violin player and the design is so the outcome of his opinion. The architecture is carved into reality by Cipriano landscape design & custom pool. They are highly experienced custom pool designer, who always ready to take on innovative challenge and this creation earns the 'Best Pool Design' award for them.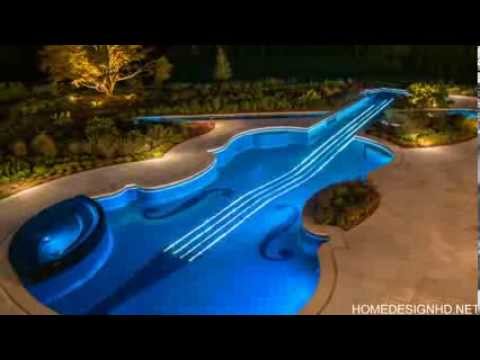 Landscape design overview:
The creativity comes into existence with the determination of creating exact replica of a Stradivarius violin. The entire violin attribute covered precisely including purl flings, f-holes, string, a bridge, tailpiece and chinrest. Around 500,000 translucent glass tiles are faintly shinning across the background and sides of the pool. The fortune sparkling two koi fish ponds were also incorporated seamlessly into violin theme- representing 'bow' of violin. Fishes are visible to the viewer via two transparent acrylic panels.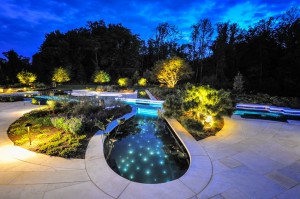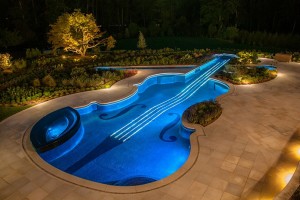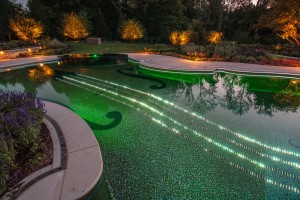 The huge 12 person perimeter overflow spa is architecture beautifully in jet black glass tiles which resembles the 'chinrest' of the violin. The landscape and outer patio area is constructed with natural dolomite stone and provided with radiant patio heating system so they won't be cover from snow during chilly weather. River flow jet system is used to make you swim against the current.

Enlightening the 'Violin':
Lightening the pool make it fun and exciting to use at night time. There are rainbow of colors and multitude of style is available to light your luxurious swimming pool and turn it into an admirable nighttime paradise. Entire feature of this violin shaped pool is highlighted effectively with help of latest fiber optic star light, string light and different color changing pool and landscape light.
The variant illuminating devices and pattern is used to give violin an appealing view and keeping it as a focal point of attraction.
Types of lightening installed in the different characteristics of pool are:
String of the violin: The 4 strings of this Stradivarius violin is glittered with the help of fiber optics strand lighting. Strings of violin are intelligently used as lap lane of the pool which is composed of jet-black translucent tile. 5760 strands of fiber optic light are intertwined with tiles to bright up the lanes at night. The strings running down the centre of the pool is glowing in the sky blue color.
Boundary of the pool: The elegantly carved boundary of the pool is illuminated by 350 feet long fiber optic 'rope' lighting. Ropes are installed beneath the coping of pool so that it may be obscure to the user while still maintaining the aura of its sparkle.
Koi ponds: The beautiful koi ponds representing the bow of the violin is decorated with 250 glimmering fiber optic star light. When the sun sets down, these end glowing fiber stars create up the impressive night sky appearance.
Perimeter overflow spa: The chinrest of the violin in form of water emanating large spa is brighten in depth by installing color changing independent LED lighting.
Landscape and deck: Landscape and deck highlighting is extremely important for safety and creating pleasing atmosphere for user and guest. Keeping violin shape as centre of attraction the landscape is illuminated with range of multi layered LED lightening. Invisible fiber optics installation is made beneath wall cape to provide light during the daylight hours. Stone patio and pathways is glows by open ended path lights.
All of these lightening arrangement results in truly magnificent view of this uniquely carved swimming pool- simply words can't describe its aura and seduction.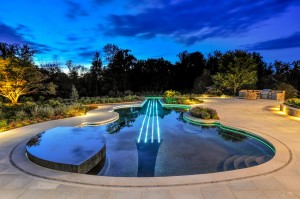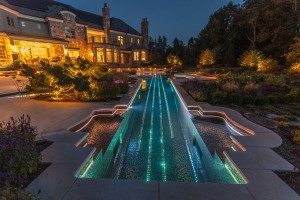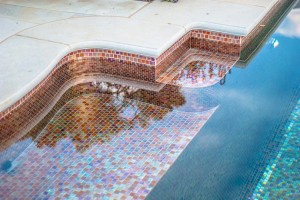 This violin shape contemporary pool is equally tech-friendly, eco-friendly and energy efficient. One can control all its feature and lighting functions via wireless remote technology and enjoy each lap with underwater music system. LED and fiber optics lighting installed can save up to 80% of the total power consumption and runs only in 12v supply. No danger of spark, current or heat with this modern branded swimming pool lightening products, also it doesn't radiate harmful rays and chemicals to the environment, so safer for you and the world.
The pool simply presents the idea that- any of your imagination can be turn into reality and illuminated with various pool lighting; that are beyond of your imagination. Surely some of the unique shapes starts forming in your mind by viewing this awesome pool design, so don't bound them there, let's create another wonder and have a dive into its luxury.