Nature Inspired Swimming Pool, Edgewater Estate, OK
September 5, 2014
Nature inspired swimming pool with waterfall adorn in spectrum of modern light- created at Edgewater Estate
The great design of your house interior is incomplete without the panorama of your house exterior. And if you are among the person who likes to be surrounded with beauty of nature, then this natural landscape swimming pool design is surely going to inspire you. The pool is innovatively design to make your exterior look fresh 24×7 throughout the year and lighten in a way so that you can relax your body and calm your mind at nighttime.
This uniquely created pool consists almost all luxurious swimming pool water features such as huge oblong round edge swimming pool for long lap, well heighted waterfall along with cascading fall, play area under waterfall, spacious 22-seater designer spa and a glass rock fire pit with bench seating. And above all the breathtaking illumination through swimming pool lights.
This dramatic pool is the result of renovation by Caviness Landscape Design, who created this unique pool to match clients dream house at Edgewater Estate. The result of their extreme and innovative efforts is 2011 APSP International Award of Excellence design which is grabbed by this pool for its creative design and awesome lighting effects.

Architectural design and construction
For any exterior pool geometry matters a lot, this decides the utilization of space, pattern formation and ultimately the realistic design of swimming pool. What result here is a 60×24 foot dimensioned oblong swimming pool whose edges are cuts in round shape and covered with colorful flagstone. A hilly waterfall with cascading water falling from 3 foot height and massive 14 foot wide play area is constructed to give it appealing natural beauty. Stone steps are created from play area to upper flagstone patio.
Other interesting implementations are glass tile inlaid spa in oval shape fitted for approx 22 people. A cozy and warm reflecting glass rock fire pit is placed at one round side of pool in circular shape. The landscape patio is covered with flagstone around pool with elegantly carved stone bench seating area. The entire features are highlighted in detailed with latest pool lighting ideas.
Lighting the nature
With the advancement in pool lighting technology it's become possible to enlighten any landscape and pool characteristics with natural color and brightness. They are much safer to use and utilize small amount of power to shimmer your pool area. Different type of custom Color Kinetics lighting encompasses this pool and waterfall area. All lighting of pool, waterfall, spa lighting are controlled by a "Jandy Aqualink PDA" and "Jandy Aqua link RS OneTouch system". The different forms of fiber and LED lighting installation result in the mesmerizing effect of this naturally inspiring swimming pool.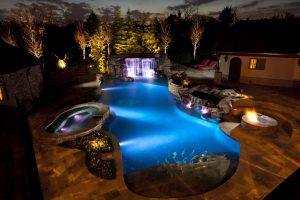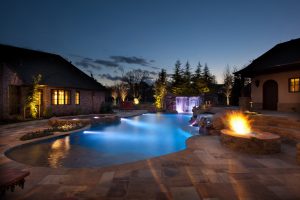 Let's have a look in this swimming pool lighting installation ideas and technique:
Pool watercolor LED lighting
The popular color kinetics watercolor LED pool lights are used to bring a palette of color in swimming pool background. This will create a unique backyard atmosphere with less than 50 watts, reduces energy expenses with long life service. It changes color to lighting up the night so that you can enjoy endless display of brilliant blended water colors. It is conveniently operated by Aqualink PDA system.
Waterfall splash lighting
Nature park like atmosphere is created by waterfall which is illuminated by Philips C-splash submersible LED light fixture. 2 units were placed underneath the waterfall to project colorful light in magenta upon waterfall. The residents thus gets an entertaining water features to dazzle their guest and visitor.
Spa- fiber and LED lighting
The comfortable and soothing spa is brightening with fiber optics star floor lighting in jelly green color. Two watercolor LED projectors are also installed in spa boundary wall to create color changing effect in this relaxing spa.
Glass tile fire pit

Fire pits are becoming popular design in luxurious swimming pool to provide warm and appealing ambiance for outdoor gathering. In this pool glass tile fire pit is formed to add a stunning focal point through fire light in pool area.
Instead of these main lighting area various spots of swimming pool deck and landscape is brighten by different LED and fiber lighting products. The overall striking appearance created in this nature resembling awesome swimming pool is giving stunning view at the clients' backyard.
This outdoor pool lighting and landscape design of Edgewater Estate is a private and inviting retreat now. The complete scenario of this pool is enjoyable through the home and office window of client resident. You can also create this panoramic natural view at your backyard home surrounding. This not only adorn your exterior with great geographical features but also proves a relaxing and pleasing place to sit, swim, and soothe your mind and body.