Solar Pool Lights
July 24, 2014
Solar pool lights have become very popular to own, and enhance the pool area in your garden. Having any form of lighting around the pool is very important. However, if you can have solar lighting they are not only attractive, but also cost-effective. The concept of the solar lights is that the top solar panel captures the sun light, and converts it into energy. As the sun goes down the lights come to life, and stay illuminated throughout the evening
Types of solar pool lights
There are several different styles of solar pool lights to choose from, and the ones that are chosen will depend on taste and budget. They can be selected in a very subtle color, or for a more dramatic effect the solar lights can be bought in vibrant colors. They can be bought as floating pool lights that are used inside the pool, or lights on poles to illuminate the surrounding area.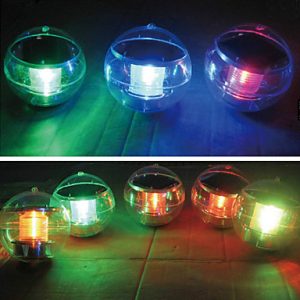 If the solar lights float in the water they can also be used to monitor the temperature of the water. They can also be anchored to one spot in the water making it safer to swim with the floating lights in the pool. This style of floating solar lights can also be used in ponds, spas, and Jacuzzis to create an amazing light effect in the garden.
The circular style of solar lights will be able to provide up to ten hours of continuous light throughout the evening. They can be found in several different colors, and can enhance any outside area. This style of light can be found in different sizes to ensure that they do not dominate the water they are placed in.
Solar lighting is also available in sphere shapes, and can look incredible if placed in the right area. This style is available with different LED's including brilliant white, red, green, and blue. The spheres will have a weight placed in the base to ensure that they stay upright, and are able to charge during the day. They can also be attached to poles or stakes so they can be moved around the garden.
Advantages of solar pool lighting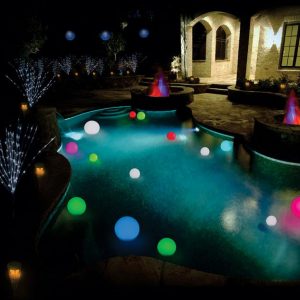 There are several different advantages to the solar pool lighting, and these included the ability to be able to install the lighting yourself. There are no difficult wiring options, and professionals do not need to be called. You will also not need to dig any trenched for the wires, and the solar lighting can be moved with ease.
The lights are also very cost-effective, and will not take any energy resources. The solar lights are very safe to use, and will illuminate the pool area at night. Although electrics and water do not usually mix, due to the low voltage used this style of lighting is very safe in the water. The solar lights are available in many different designs, colors, and styles to suit all taste, and garden areas.
Limitations of solar pool lighting
Although the solar lighting is great you do need to be aware of some of the down sides to having them installed. They may be in very different colors; however, solar pool lighting tends to be duller, and will not illuminate the area to a high standard. During cloudy days they may not fully charge, and not be able to provide you with the adequate light needed.