Stanley House Spa in Mellor, Lancashire
September 4, 2014
A panoramic paradise adorn in blue- vitality swimming pool spa at Lancashire
Lighting your indoor pools with thematic color and creativity simply brings life to any pool enclosure. The gleam reflecting from the aura of the pool is complemented by the underwater lighting and illumination of roof and wall, thus a balanced lighting feature should be needed to create right ambiance for your indoor swimming pool or spa. This infinity edge vitality swimming pool spa is a perfect breathtaking example of an indoor pool using awesome pool lighting ideas in dramatic contrast.
This luxury stunning swimming pool is a part of a boutique spa and massage station, which is innovatively designed and created to provide its customer a relaxing experience together with uninterrupted panoramic views over the Ribble valley, looking through the floor to ceiling glazing windows adjacent to the pool.

This elegantly glowing project is a part of a Stanley House hotel in Mellor, Lancashire. Its interior is designed by-Trevillion Interiors, hydraulic and lighting facility is installed by- Barr + Wray, pool construction is finished by- Guncast and the overall project is delivered by renowned-Howard spa consulting. Entire features of pool and spa is installed by running through 'rural escape' theme engraved in blue oceanic water and starlight galaxy ceiling.
Pool spa and surrounding architecture:
The cozy and beautiful looking pool is constructed in contemporary infinite edge style accompanied with two waterfall fountains. The pool is clad with imported Italian porcelain including its boundary and background. This multi-million spa has optimum fluid furnished landscape and mood-making light fitting influenced by classic English design. The most innovative thing about the pool is big glassy window from rooftop to floor which supports the striking reflection of pool light.
The whole architecture of the spa and pool has an uplifting quality and was designed ultimately to relax spa's guest and stimulate contemplation.
Illuminating the enclosure:
With the versatile design and 365-days convenience, indoors pools are becoming extremely popular in commercial and residential area. But to cheer year-round on pool party at night needs adequate pool lighting for safety and enjoyment.
Focusing towards the relaxation of the guest under the pleasing lighting atmosphere, this vital pool is elaborated by blue fiber optics lighting network for surrounding and color changing LED lighting within the pool. All products of lighting are installed precisely to complement the use of chromo therapy throughout the spa.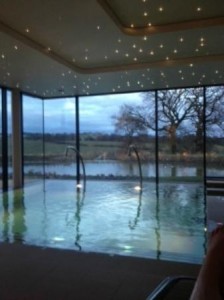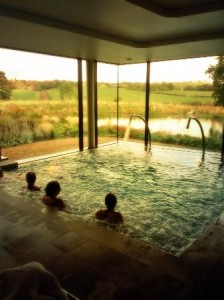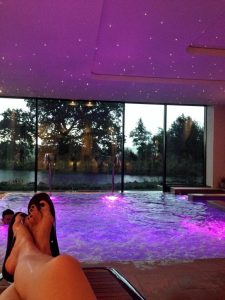 Fiber optics star ceiling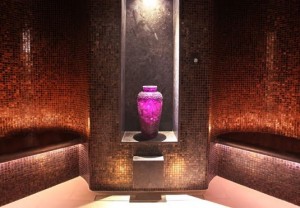 You can create a dramatic natural outdoor effect in your private enclosure swimming pool with amazing fiber optics star ceiling. The same is installed in this cozy spa indoor pool. These tiny shimmering blue stars giving a glittering sky like effect. An illuminator or light projector is installed to create this animated light. The only requirement to see such kind of lighting is suitable and complementing surrounding brightness. These lights are great illuminating option with power efficient advantage; it comes in option of 5W to 10W and 500 to 1000 point custom star kit. The ocean blue fiber optic lighting in this spa is simply adding a unique vibe to its beautiful aura.
Color changing LED lights
How amazing it is to change the spectrum of light in the indoor pool according to your mood. This vividly striking appearance can be created here by automated color changing pool and spa light feature LED lighting technology. This lighting technology has boom in awesome swimming pool lighting because it is energy efficient, has lifetime value and easily controllable. In this pool various combination of colors are mixed and match to provide its user a cool and comfortable dip. The precise installation and design lets the reflector to direct more light in the bottom, which increases its intensity and color effects while minimizing glare. Its power consumption is 50% less than competitor lights. These lights have various pre-programmed function that sets the mood and can be controlled by remote.
Lounge chair and deck lighting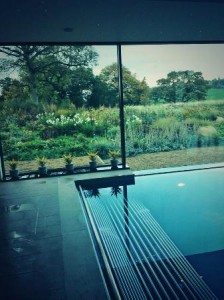 This marvelous relaxing indoor swimming pool and spa has well lighten lounge chair and deck which elegantly complementing the swimming pool lighting effects. This furniture for comfort is facing toward the glass wall like window that let its guest to stare amazing distant views. Lounge chair is illuminated with sunset yellow LED light color from back bottom which shimmers like evening beach. This created a perfect hue of the overall indoor spa room.
The rest of the surrounding is brightening up by different shades of yellow and in the form of holographic projection. The aroma of this beautiful blue heaven attracts their guest and coerces them to spend few extra hours here.
This pool lighting and design presents some inspiring features which you can utilize to enhance the look and environment of your indoor swimming pools. These are:
Installing a wall glass window adjacent to indoor pool gives it more natural and outdoor like effects. You can face it towards you garden or patio.
Fiber optic ceiling lights can add the creativity and attraction of the pool.
Contrasting ceiling and pool light makes the whole enclosure more appealing and cool.
Illuminate the wall in different theme to give versatility to your pool area.
You can enjoy and relax into this vitality swimming pool by reaching to Stanley hotel at Lancashire or simply inspire from it and design one for yourself with unique theme and lighting effects that lets you to enjoy and cheers your party at any time, any day.