Tropical Paradise, Edmond, Oklahoma city
September 6, 2014
Tropical paradise at home- uniquely designed and elegantly delighted at Edmond, Oklahoma city
Most of the great and beautiful river of the world has originated from a mountainous rock, this indicate that water and stones have in depth relation to create the beauty marvel of this nature. The pool designers with this type of visions, making it compact reality in their client premises. Coming out from the traditional pool design they are carving the stones in tropical way to install a panoramic pool in natures lap. The pool discussed here is a great example which has shown such type of creativity.
This huge shimmering project features a stationary river, Cozy Island, Stone Age cave & grotto, glass tile cashew shape spa, splash pool, two mammoth waterfall, bridges and dry lounging landscape with fire pit. So, there is nothing left in this luxurious swimming pool, every feature is covered and designed in innovative and elegant way to give groomed natural finish to this pool.
This best investment is made at Edmond, Oklahoma city and is a part of a private residence. The pool is imagined and design by renowned water shaper J. Allen and his imagination craved into reality by Blue Haven Pool OKC. This creation of awesome swimming pool design and lighting has won the International Silver Pool Design Award, which indicates its grace and gratuity.
Transforming the land into tropical Island- Architectural design
This unique swimming pool is designed in a way to resemble a small island with waterfall and surrounded with stone and a grotto. Elevation of each unit is designed precisely to complement the resultant architecture. The major attraction of the pool is two 13 feet high waterfall in 'T' structure design. Adjacent to waterfall there is a well engraved man made grotto, which includes a compact pond and two swim thru entrance to swimming pool. Two stone foot bridges with wooden boundary wall, one of which ends towards the grotto side and other towards pool edge is proving a great alternative for pool deck. At one end of the pool there is a huge cashew shape spa and a lovely fire pit with seating arrangement that completes the landscape of this pool. The pool and spa is covered with Sicis custom blend glass tile and other water features are inlaid with custom pebble finish. Large number of tree plantation around the pool and backside of waterfalls delivering a feel of being in forest middle.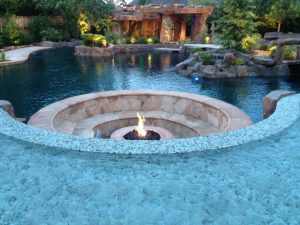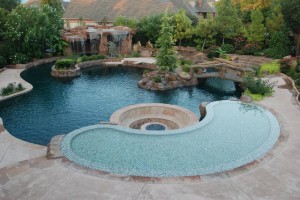 Illumination task of entire features
Every detail of this uniquely designed pool is enlightened by quality LED swimming pool lighting. The variation of color projected by these light kit inside the pool, spa, waterfall and grotto giving it a pleasing and attractive blend which simply justifying the theme of pool. The whole area becomes a perfect spot for pool party, picnic, fun and enjoyment with ON of its dramatic light at night. Detailing its lighting installation:
Luxurious Pool lighting
This swimming pool has various curve and edges which gives opportunity to brighten each spot with different color. Thus a multicolor changing LED is installed beneath the boundary of pool inside the water to project lights in different shade of blue. 12v underwater eco-friendly 'Fusion' kit is installed to give this water color feature.
Innovative spa illumination
The vast spa of the pool is illuminated with party light effects with three light spot inside the spa. The color changing LED light is installed which is controlled by remote switch to change the color mode according to your mood.
Charming waterfall light projection
The lightning product with good intensity of projection is required to augment the beauty of your waterfall at night. The waterfalls of this pool are delighted by Fusion's G4 12VAC eco-friendly LED light. The whole system install underneath the fall will heighten the soothing atmosphere of this artificial nature park.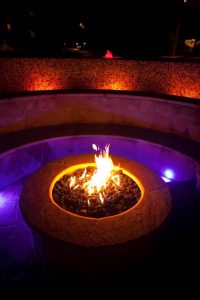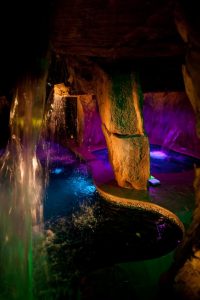 Enchanting shimmering inside grotto
The compact cozy man made grotto is dramatically enlightens with fusions LED color changing kit. The lights comes with various color option and very versatile to be placed in all types of pool, spa and landscape application.
Fire pit lighting
Precisely lighting fire pit adjacent to spa provides a warming experience after a chilled dip into swimming pool. Several inch deep lamps like circular pit is enlighten with fire to give the calm comfort around the pool.
Landscape lighting
The rest of the landscape, deck and plantation area is lighting by various illuminator and projector fiber and LED lights of Fusions to complete the view of this naturally inspired forest beach.
The idea presented by this luxurious pool that surely helps in your pool renovation and new design and lighting are:
Adding a well heighten waterfall will create a sporty adventure in your pool, and lighting it with high intensity illuminator will add an extra feature at your night time pool party.
Grotto adjacent to waterfall will gives you a mountainous feeling and lighting it will create unique dramatic atmosphere for group gathering.
Developing a bridge and lighting its path and footsteps is a best and safe alternative then swimming pool traditional deck, which is often slippery and risky to walk.
The tropical landscape design will transform your backyard into fresh and relaxing river bank; with beautifully enlighten stone all around.
This pool is an amazing result of renovation, but you can think about it as a new pool at your premises. This island pool includes all type of water features and facilities which an idol, luxurious and modern swimming pool has.